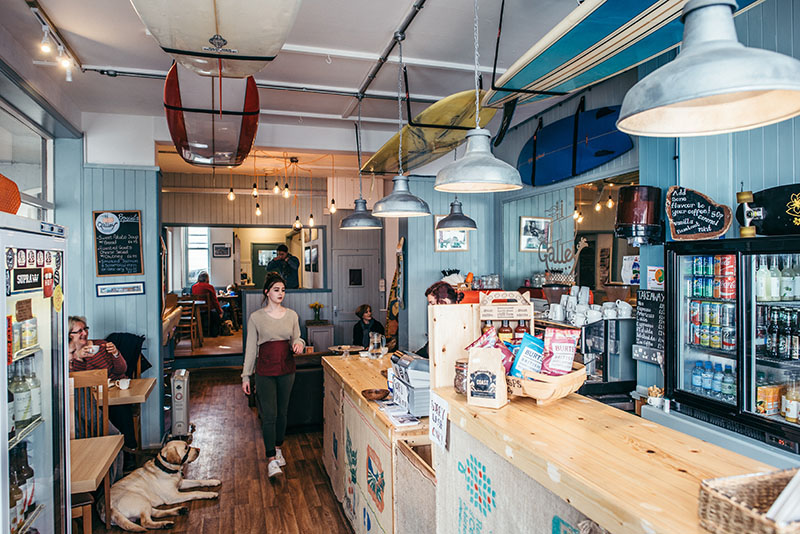 Founded by Keian Gillet, a chef with international credentials and a passionate boardrider to boot, the Galley Café brings a touch of its owner's own relaxed surf chic to Lyme Regis.
Celebrating two years in business in 2016, the Galley has gained a popular following and reputedly serves the best breakfasts in town, with the 'Full Montgomery' and its selection of locally sourced bacon, sausages and eggs proving a winner with regulars and visitors alike. 2015 saw the opening of The Snug, an extended seating area, and regular live music and poetry nights have proved a hit. Early 2016 saw The Galley receive a full facelift, the fresh new interior layout ready for a busy summer season.
Keian and his close-knit team pride themselves on the fact that almost every item on offer in the café, from the best-selling Guinness cake to the wide selection of savoury flatbreads, is made fresh on the premises. In fact, the only things not born and bred in Dorset are the Cornish pasties, which come courtesy of the award-winning Posh Pasty Company and are baked in-house each morning.
In addition to a window display full of enticing treats to take away, the Galley also offers a broad lunchtime menu, whether you fancy a freshly-baked baguette with your favourite choice of filling, or (depending on the season) a warming stew or summery salad.
Coffee lovers should pay a visit too, as the Galley boasts a traditional Italian-style coffee machine and source its beans from neighbours and coffee fanatics Amid Giants and Idols, who possess their own microroaster and prepare their speciality blends on site. For those looking for something a little stronger than a freshly-ground espresso, a carefully chosen selection of wines, as well as some of best ciders from the region are also available.
With both children and dogs welcome, the Galley's comfy sofas are the perfect place to recharge after a busy morning on the beach or out fossiling.